UNESCO lea United Nations Educational, Scientific and Cultural Organization dahje Ovttastuvvon Našuvnnaid oahpahus, dieđalaš ja kultuvra organisašuvdna. UNESCO ásahuvvui 1945: s, váldokantuvra lea Parisas ja muđui leat ollu vuolit kantuvrrat miehtá máilmmi.
Jahki 1972:s dohkkehii UNESCO máilmmi kulturárbbiid konvenšuvnna. Jagi 1978 rájis leat sihke visttit ja báikkit miehtá máilmmi ožžon árvodási leat kultuvrralaš ja/dahje luonddu máilmmiárbin. Oktiibuot gávdnojit 1092 máilmmiárbebáikki, mas 845 leat kultuvrralaš, 209 luonddu ja 38 báikki leat sihke ja. Gávdnojit máilmmiárbebáikkit 167 riikkas ja 37 báikki rasttidit riikarájiid.
Norggas dohkkehuvvui Finnmárkkus vuosttáš máilmmiárbebáikki 1979:s, namalassii báktedáidda Álttás.
Dál leat Norggas čieža dohkkehuvvon kulturbáikki ja okta luondduárbebáiki. Searvi Norges Verdensarv lea fierpmádat masa gullet Norgga máilmmiárbebáikkit ja daidda lea ráhkaduvvon vuođđočájáhus.
Davvin Sámis lea kultuvra ja luonddu máilmmiárbebáikki Lapponia, Ruoŧas beakkálmas.
Mii lea Struve meridiánadávgi?
Struve meridiánadávgi lea issoras stuora mihtidanbarggu mii čađahuvvu áigodagas 1816-1855. Mihttun lei mearridit eananspáppa hámi ja sturrodaga. Barggu birra eanet dieđut neahttasiiddus Norges Verdensarv. Mii siteret:
"Prošeakta lei ovttasbargu gaskal Ruošša, Ruoŧa ja Norgga ráđđehusaid. Dat lei vuosttáš dieđalaš ovttasbargu oba máilmmi historjjás mii organiserejuvvui stáhtaid ovttasbargun. Struve meridiánadávggi mihtidedje dan láhkái ahte ráhkadedje 2822 km guhkes gaskii golmmačiegagat ráidolága Ismailis Čáhppesmeara rájes gitta Fuglenessii Hámmárfeasttas. Grádaidmihtidanráidu lei hábmejuvvon dego viđji mas ledje golmmačiegagat main lei 20-40 km guhkes siiddut. Čiegaid mihtidedje 265 váldobáikkis ja ledje 60 veahkkečuokkastaga biddjon meridiánadávggi mielde. Otná riikarájiid mielde de manná golmmačiegagiid ráidu 10 riikka čađa: Norga, Ruoŧŧa, Suopma, Ruošša, Estteeana, Latvia, Litauen, Vilges-Ruošša, Moldova ja Ukraina." .
UNESCO mearrádus suodjala 34 čuokkastaga, mat leat ain čávdásat. dan áiggi rájes go mihtideamit čađahuvvojedje. Buot báikkiin lea muhtin lágán mearka, čuokkastat eatnamis váris, rávdeboalta, geađggit bordojuvvon badjálaga muvran dahje geađgestoalpu.
Norggas leat dát Struve meridiánadávggi mihttobáikkit:
1. Geažimus (davimus) mihttobáiki lea Meridiánabázzi Hámmarfeasttas
2. Nubbi davimus lea várrečohkas, Unna Ráipásaš Álttás (286 mmb.)
3. Luvddiidčohkka, Beaskađđasis, Guovdageainnus
4. Bealjášvárri/ Muvravárri, nuortabealde Ávžži, Guovdageainnus

Ruošša astronoma ja geodeta, Friedrich Georg Wilhelm Struve (1793 – 1864) lei dan stuora prošeavtta ovddasvástideaddji. Mihtidanbarggu dahke vázzi ja dan vuođul gávnnahedje man guhki lea birra eananspáppa (ekváhtorrádius). Sii gávnnahedje dat lea 6 378 361 mehter. Dat lea dušše 224 mehtera guhkit go maid otná ođđaáigásaš teknihkalaš mihttovugiid bokte leat gávnnahan.

Mii lea dahkkojuvvon máilmmiárbbiin?
Struve meridiánadávgi čálihuvvui 2005:s UNESCO máilmmiárbbiid listtus vuosttáš teknihkalaš-dieđalaš kulturárbin. Mihtidanbarggu ja kulturmuittuid suodjaleapmi lea čilgejuvvon dán siiddus: Struve Geodetic Arc. Earret eará leat buot riikkat maid meridiánadávgi guoskkaha, searvan ásahit riikkaidgaskasaš koordinerenjoavkku.
Norgga bealde ádjánii ášši dan rájes go Struve meridiánadávgi čálihuvvui máilmmiárbbiid listui. Jagi 2015:s šihtte Riksantikvára, Kartverket, Finnmárkku fylkkasuohkana ja dat golmma guoskevaš suohkana: Guovdageaidnu, Álttá, ja Hámmárfeastta, ovttasbarggu. De ceggejuvvui diehtojuohkintávvalat ja Hálddašanplána ráhkaduvvui. Gávdnojit maiddái sierra neahttasiiddut gos gávdno ollu diehtu mihtidanbarggu birra mii dahkkui Norggas ja maiddái mii odne gávdno dain iešguđet ge mihtidanbáikkiin.
23.11.2018:s mearridii ovttasbargočoahkkin gaskal Finnmárkku fylkasuohkana ja Álttá, Hámmárfeastta ja Guovdageainnu suohkana ásahit lávdaduvvon Struve meridiánadávggi máilmmiárbbiid guovddáža mas leat čájáhusat sihke Hámmárfeasttas ja Guovdageainnus. Guovdageainnu bealis ásahuvvo máilmmiárbbiid hálddašeaddji virgi. Čájáhus lea mearriduvvon ásahuvvot Kulturvissui. Guovdageainnu suohkan áiggošii dan barggu ásahit oktasaš guovddážii mii áimmahušašii luonddu, kultuvrra ja máilmmiárbbiid.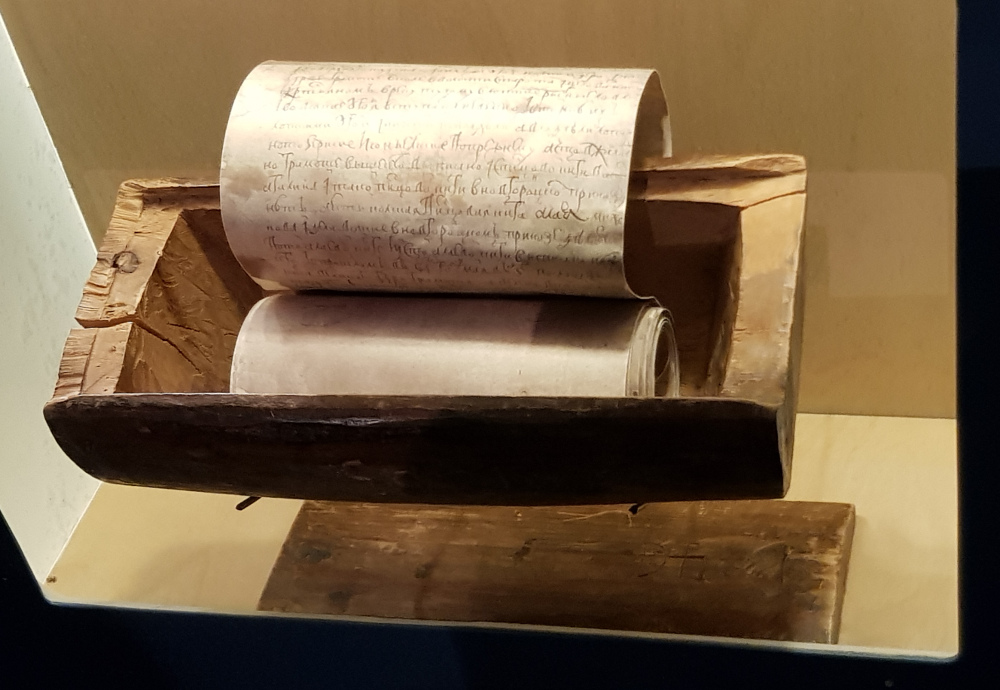 Gramota, dahje nuorttalaččaid vuoigatvuođareive, lea Siida Sámi Musea čájáhusas Anáris
(Govva: Svein Lund)
1992:s álggahii UNESCO prográmma Memory of the World, sámegillii Máilmmemuitu. Dát galgá váldit vára erenoamaš mávssolaš dokumeanttaid, govaid og filmmaid. Oktiibuot ledje 2017_s 430 dokumeantta/Čoakkaldaga listtus, dat leat 124 riikkas.
2015:s lasihuvvui listui Suonjil-siidda arkiiva. Máilmmšmuituprogreámma neahttasiiddus dat lea ovdanbukton ná:
The archive forms a unique body of documentation of an indigenous community. It is a unique expression of how documented decisions of the government were understood already centuries ago as safeguarding the fundamental rights of the community. The documents are official edicts issued by the Russian Emperor and the Imperial Government (gramota), which confirmed the rights of the Skolt Sámi community to their fishing and reindeer herding territories and the community developed a unique way to preserve these vital records.
Norggas leat 6 dokumeantta/čoakkaldaga listtus:
– Lepraarkivene i Bergen ved Bergen byarkiv, Medisinsk fødselsregister (UiB), Statsarkivet i Bergen og Lepramuseet St. Jørgens Hospital
– Originalmanuskriptene til «Et dukkehjem» av Henrik Ibsen ved Nasjonalbiblioteket i Oslo
– Roald Amundsens filmmateriell fra ekspedisjonen til Sydpolen ved Norsk filminstitutt, nå Nasjonalbiblioteket
– Thor Heyerdahls arkiv med manuskripter, publikasjoner, korrespondanse, fotografier, film og bibliotek ved Kon-Tiki Museet i Oslo
– Sophus Tromholts samlinger, fotografier av den samiske befolkning i Kautokeino 1882–1883, Universitetet i Bergen
– De castbergske barnelover av 1915

Dasa lassin lea sierra listu, Norgga Dokumeantaárbi, mas daid dokumeanttaid lassin, main lea riikkaldgaskkasaš árvu. leat badjel 100 dokumeantta dahje čoakkaldaga. Dáid gaskkas leat čuovvovaččat main lea erenoamaš beroštupmi Finnmárkkus ja Sámis:
– Kontrollbøker for evakuerte 1944-51
– Kvenske og samiske dokumenter fra Kistrand kommunearkiv 1845–1914
– Rettsprotokoller fra arkivet til sorenskriveren i Finnmark 1620–1813

Tromholta dutkan ja mátkkošteamit
1800 logu loahpas ásahuvvoje máŋga dutkanstašuvnna guovssahasa dutkama várás, ee. Áltái ja Soađegillái, Suomas. Vuosttáš gaskariikkalaš polárajagi 1882-83 vulggii dánska guovssahasdutki ja govvejeaddji Sophus Tromholt (1851 – 1896) Finnmárkui dutkat guovssahasa. Son bođii Guovdageidnui čakčat 1882 ja orui dálvvi gitta giđđii, miessemánnui. Tromholt áicádii ja mihtádalai guovssahasa ja dat áicamiid ja mihtuid buohtastahtte dasto daiguin dieđuiguin maid ledje čohkkejuvvon eará dutkanstašuvnnain. Duoin eará dutkanstašuvnnain ledje máŋga dutki, muhto Tromholt barggai okto Guovdageainnus. Son finai máŋgga sajis Guovdageainnus ja finai maiddái Ruoŧa bealde Gárasavvonis ja Suoma bealde, Soađegilis. Go Guovdageainnu guđii, de manai Áltái ja viidáset fatnasiin ja finai ollu eará báikkiin Finnmárkku rittus, ja gitta Ruošša ráji rájes
Govvejeaddji ja girječálli Tromholt
"Buot geahččaleamit Guovdageainnus govvet guovssahasa eahpelihkostuvve munnje. Seammá bođus lei duoin eará Polar-stašuvnnain. Vaikko geavahin buot hearkkimus goike pláhtaid ja 4-7 minuhta eksponerenáiggi, de in lihkostuvvan oažžut in unnimus mearkka ge pláhtaide. Sivvan lea sihke heajos čuovga ja láivves kemihkalaš váikkuhusa.
Vuolitravdadiehtun girjjistis čállá ná: "Lean gal maŋŋil, njukčamánu 15.b. 1885 lihkostuvvan Kristianias oažžut mearkka maid sáhttá oaidnit govvapláhtas go geavahin eksponeren áiggi mii lei 8 ja beali minuhta." Imaštahtti lea go goappašat girjjiin maid son almmuhii, leat máŋga guovssahas-gova dan áigodagas go son lei Guovdageainnus. Dán áigásaš váilevaš girjeprenten teknihkka dihte mainna girjji lea prentejuvvon 1885: s, lea váttis oaidnit leat go guovssahasgovat govvejuvvon vai tennjejuvvon.
Bergena Universitehta govvačoakkáldagas
leat dat rehkenastojuvvon govvejuvvon govvan. Čilgen dihte ášši, válddimet mii oktavuođa Bergen Universitehtain. Sii čilgeje ášši ná:
"Tromholt ii lihkostuvvan daiguin rusttegiiguin ja negatiivvaiguin mat sus ledje, oažžut gova guovssahasas, vaikko dat lei su ulbmil. Son dan dihte tennjii guovssahasaid báhpárii ja de govvii daid tennjegiid. Son lihkostuvai govvet guovssahasa muhtun áiggi maŋŋil go lei eará háve mátkkis davvin."
.
Tromholt govvii baicca ollu govaid Finnmárkku eatnamiin, olbmuin ja visttiin. Son almmuhii govvačoakkáldaga man navddii Billeder fra Lappernes Land. Davvimátkkiin Tromholt čálii mátkereivviid ja sáddii daid Morgenbladet nammasaš aviisii. Mátkereivviid čohkkeje ja redigereje ja dat ilbme girjin 1885: Under Nordlysets Straaler, mii almmuhuvvui dánskka- ja eŋgelasgillii. Sámi allaskuvllas riikkaidgaskasaš Polar-jagi 2007 olis almmuhuvvui dánskkagielat girji faksimilan
Tromholta govat govvejuvvon Guovdageainnus, earenoamážit portreahttagovat, leat govat maid mii buoremusat dovdat, muhto son govvii maiddái mávssolaš govaid sihke Suomabeale ja Finnmárkku riddoguovlluin. Hámmárfeasttas govvii son earret eará Meridiánabácci mii lei ceggejuvvon 1854:s mihtidanbarggu loahpaheami muitun. Mihtidanbarggu dovdat dál Struve meridiánadávgin. Meridiánabácci govva čátná guokte dáhpáhusa oktii ja mat badjel 100 jagi maŋŋil čálihuvvoje máilmmiárbbiid listui.
Tromholta govvačoakkaldat máilmmiárbin
Tromholta čoakkáldahkii gullet 231 láse-negatiivva ja 189 originála kopiija ja dat vurkkoduvvojit Universitehta girjerádjosis Bergenis. Sáhttá geahčadit govaid dás:http://marcus.uib.no/search/?q=Tromholt
Jagi 2013 čálihuvvoje su govat máilmmiárbbiid listui. UNESCO vuođđuda čáliheami ná:
Dát govat leat earenoamážat individuála ja olmmošlaš dáfus. Govain oaidná sámiid eará láhkái go stereotyhpan ja eksohtalaš turisttaobjeaktan. Govat leat beroštahttit gáldon gaskariikkalaš eamiálbmot kultuvrra ja eamiálbmogiid "earálágánin" govvideapmái. Dien digaštallama oktavuođas leat Tromholta govat mávssolaččat sihke historjjálaččat ja politihkalaččat.
Mii dáhpáhuvvá Guovdageainnus?
Guovdageainnu bealis lea bargan máhcahit Tromholta govaid Guovdageidnui, dohko gos govat leat govvejuvvon. Guovdageainnu suohkan, Bergena Universitehta ja Sámi allaskuvlla lea šiehttan áigumuša ráhkadit čájáhusa Tromholta govain Guovdageidnui.
Jagi 2018 govvaprošeakta Govvagiisá stuorrudii muhtun Tromholta portreahta maid govvii Guovdageainnus, ja Per Ivar Somby ivdnii daid. Dat govat ledje čájáhussan Thon Hoteallas, Guovdageainnus. Čájáhusa rabai kulturministtar Trine Skei Grande. Maŋŋil lea čájáhus dahje oasit leamašan čájáhussan Diehtosiiddas Guovdageainnus, Sámedikkis Kárášjogas ja Romssa girjerádjosis.
Eambbo dieđut guovssahasa ja guovssahasa dutkama birra Finnmárkkus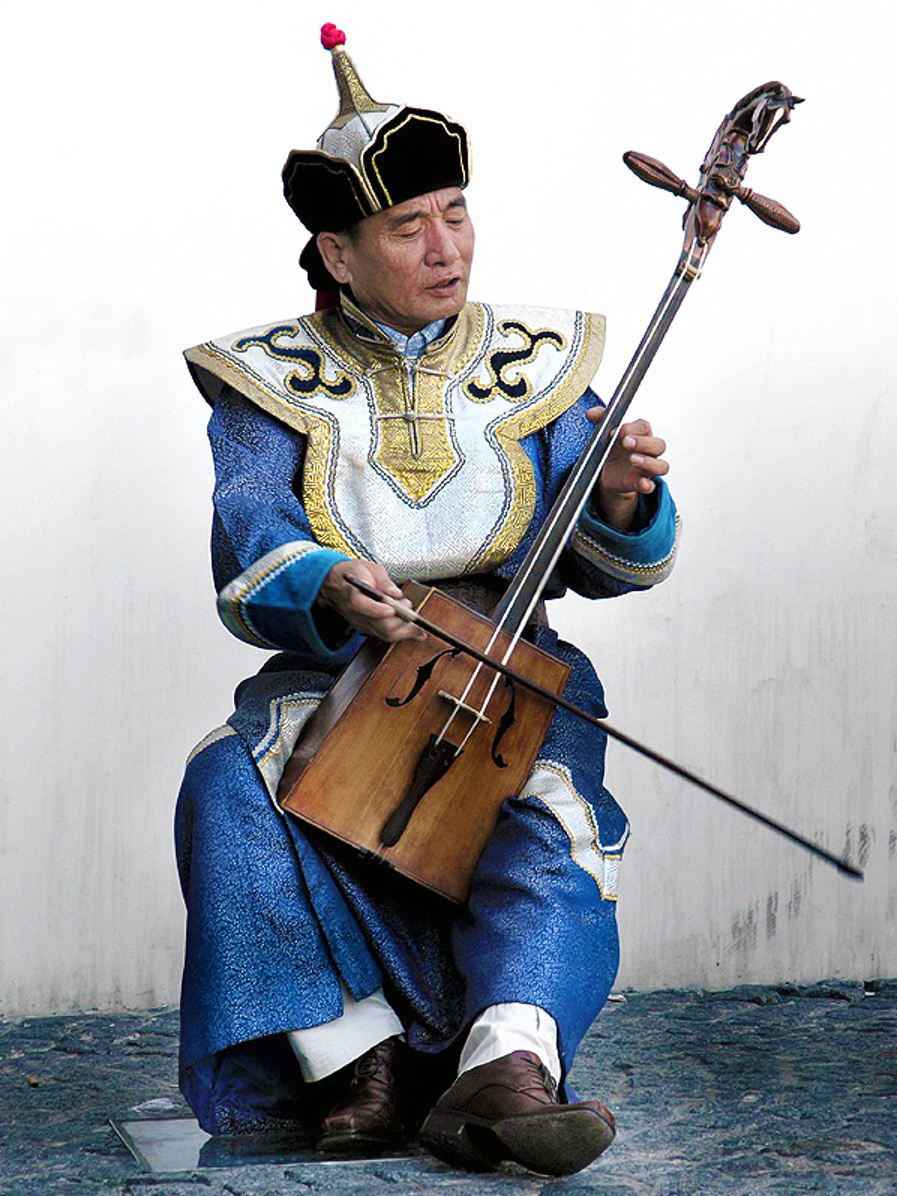 Mongolia musihkka mii čuojahuvvo heastašuovkafidjoliin lea UNESCO máilmmiárbbiid listtus.
(Govva: Wikipedia)
Ođđaseamos UNESCO máilmmiárbbiid listu lea
immatriála kulturárbelistu
. Dat ásahuvvui 2003:s dalle go UNESCO mearidii immateriála kulturárbbigáhttenkonvenšuvnna, (
Convention for the Safeguarding of the Intangible Cultural Heritage Memory of the World
). Konvenšuvdna fátmmasta árbevieruid, duoji, dánssaid ja lávluma, luonddudieđuid, rituálaid ja vieruid. Konvenšuvnna leat dán rádjái 178 riikka dohkkehan (ratifiseren). Norga dohkkehii konvenšuvnna 2007: s ja Kulturráđis lea ovddasvástádus čuovvulit immateriála kulturárbebarggu Norggas.
UNESCO's leat golbma listtu immateriála kulturárbelisttu:
– Listu mii ovddasta olmmošsohkagotti immateriála kulturárbbi («Representative List of the Intangible Cultural Heritage of Humanity»)
– Listu mii čájeha buriid gáhttengeavadiid («Register of Good Safeguarding Practices»)
– Listu mii čájeha daid immateriála kulturárbbiid maid ferte gáhttet dalán («List of Intangible Cultural Heritage in Need of Urgent Safeguarding»)
Ovdal juovlamánu 2019 čáliheami, de ledje listtus oktiibuot 549 ášši juohkásan 127 riikii. Listtus leat eanas olmmošsohkagotti immateriála kulturárbbit. Lassin ledje vel 51 evttohusa mat ledje árvaluvvon nammaduvvot 2019.
Dássážii leat Norggas dušše guokte gáhttema nammaduvvon listui. Da leat Oselververkstaden Hordalánddas ja stevenárbevierru (álbmotmusihkka) mii gávdno Setesdalas ja diet čálihuvvo listui 2019:s. Ruoŧas lea dušše okta kulturárbi dien listtus ja Suomas ii leat oktage. Kulturárbbit Ruoššas mat leat listtus eai leat Sámi guovllus, muhto áibbas eará guovllus Ruoššas. Ii oktage Sámi kultuvra-árbevierru leat vel ožžon immateriála kulturárvu UNESCO:s.
Guovdageainnus ja muđui Sámis, gávdnojit immateriála kulturárbbit mat heiveše dien listui. Guovdageainnu suohkan lea earret eará bargagoahtán oažžut juoigama nammaduvvot kulturárbin, go luohti lea okta dain boarráseamos musihkalaš ovdanbuktinvugiin máilmmis. Suohkan lea ovddidan ášši Kulturdepartementii, Máhttodepartementii ja UNESCO:ii.
Ii gostege leat juoiganárbevierru buorebut áimmahuššon ja ovdánan go Guovdageainnus. (Geahča listtu mas juoigit Guovdageainnus leat namuhuvvon) Lea lunddolaš ahte Guovdageainnus livččii guovddáš rolla dan barggus ja ahte boahttevaš juoiganguovddáš oččošii ánssu leat máilmmiárbbiid listtus.
Leat maiddái eará sámi kulturárbbit main galggašii seammá árvu. Sámedikki guorahallamis namuhuvvojit
ovdamearkkat mat sáhttet leat Sámi immateriála kulturárbbit:
• Njálmmálaš máinnastanvierut
• Duodji
• Dakkár dáiddagaskkusteapmi go teáhter, festiválat ja kulturlágideamit
• Juoiganárbevierut
• Sohkamáhttu, mii maid mearkkaša máhttu luonddu, árbevieruid birra jna.
• Jáhkku/ osku (omd. buressivdnádusat (ođđa) báikkiid oktavuođas dahje vuoiŋŋalaš báikkiid oktavuođas luonddus jna.)
• Máhttu luonddu ja elliid birra, ja máhttu ja gálggat mat gusket lundui.
• Báikemáhttu mii guoská oskui, ealáhusaide jna.
> Dáid searvái sáhttá lasihit:
Meahcásteami
Sámi biebmokultuvra
Boazodoalu